Laboratory Lyophilizer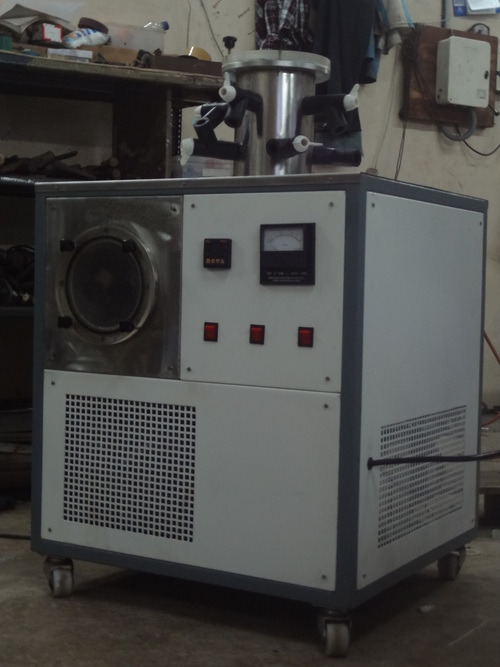 Laboratory Lyophilizer
Product Description
Laboratory Lyophilizer
We are one of the leading manufacturers, suppliers, and exporters of high grade of Laboratory Lyophilizer. These products are widely used for freeze-drying of heat sensitive biological materials. These products are fully tested by our team of experts before being dispatched to our valuable customers. The dried materials can be easily transported without loss of their original characteristics. These products are available at cost effective market prices.

Specifications:
Digital Temperature indicator cum controller with display resolution of 1C.
PT-100 Sensor.
Controlling accuracy: 2C
Display accuracy: 0.5%, full scale
Drying chamber size: 200 mm Height X 150 mm diameter
Cold trap size: 350 mm L X 150 mm diameter
Temperature controller:

The lyophilizer/freeze drier has a controller cum digital temperature indicator with a display resolution of 1C.
PT-100 Sensor.
The controlling accuracy and the display accuracy is 2C and 0.5% respectively
Construction:

Consists of a cold trap chamber and a cylindrical type drying chamber
Drying chamber and the cold trap chamber are both made from 304 grade polished stainless steel
The size of the drying chamber is 200mm Height X 150mm diameter.
Cold trap size: 350mm L X 150mm diameter.
8-ports SS drum drying manifold with 8 quick seal valves.
Also consists of a plane acrylic lid
Cold trap temperature: -55C.
Two stage direct drive vacuum pump with a capacity of 100 liters per minute
Pirani Gauge for vacuum indication.
Vacuum range Up to 0.01 milli bar.
Has a drain for collecting water
Refrigeration system:

Double stage (Cascade) refrigeration system.
Hermetically sealed EMERSON Copeland make compressor.
CFC free refrigerant filled.
A fin and tube type air-cooled condenser.
Power supply:

Single phase. 230 Volts, 50 Hz.
Optional:

Cold trap temperature up to -80 degrees Celsius
A suitable voltage stabilizer
For extra cost, full stainless steel models are also available
Flasks with glass adapter are also provided
Pre freezing bath that has a temperature range of -40C / -80C.