Environmental Chamber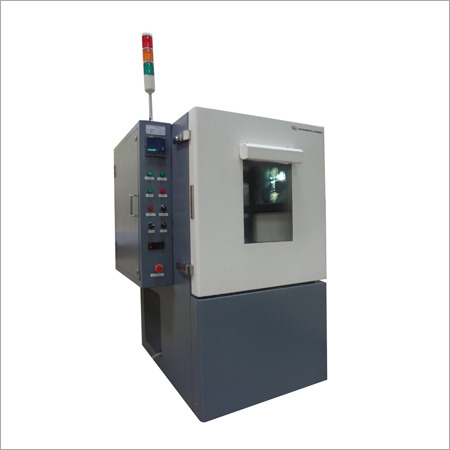 Environmental Chamber
Product Description
Environmental Chamber
We are one of the leading manufacturers exporters and suppliers of Environmental Chamber. This chamber is manufactured using supreme quality raw materials under the guidance of talented professionals in compliance with set quality standards. Offered chamber is highly appreciated by clients, as it has various temperature controlling features. Provided chamber is available in various technical specifications as per the requirement of the clients. Furthermore, we provide this Environmental Chamber at nominal prices to clients.
Environmental Test Chambers are used for artificially recreating specified environmental conditions that biological items, machinery etc might be exposed to during their functional life. These conditions include extreme temperatures, wide temperature variations(thermal shock), moisture levels, electromagnetic radiation etc.
Technical Specifications:

Digital microprocessor based PID, a temperature indicator cum controller that has a display resolution of 0.1 C.
Digital Microprocessor based PID, Humidity Indicator cum controller that has a display resolution of 1%Rh. (direct reading).
The full scale display accuracy is precise up to 0.5%
Temperature controlling accuracy is precise up to 2C.
Humidity controlling accuracy of 2-3% @ 40% to 98% Rh.
The sensor for dry and wet temperature measurements is class A grade PT-100 (RTD)
Construction:

Vertical model
Inner chamber constructed from 304 grade polished stainless steel, while the outer chamber has been constructed from mild steel and is also been powder coated
Polyurethane foam (PUF) and glass wool / ceramic blanket insulation.
Handle, lock and heavy-duty hinges for the door.
Door with Silicon / Neoprene rubber gasket for leak proof.
To maintain uniform temperature, the test chamber has a feature of forced air circulation
For observing the components that are being tested, the test chamber has a frost free viewing window
Has a double wall full front opening door
Automatic switch off of the circulating fan when door is opened
To enable easy movement, lockable wheels are also provided
Also has a drain facility for draining the condensed water from the chamber
Refrigeration system:

Hermetically sealed Emerson Copeland make compressor.
CFC free refrigerant filled.
Has a fin and tube type air-cooled condenser
Safety features:

Comes with ideal overload protectors and MCB for ensuring optimal safety to electrical/electronics and refrigeration systems
Also comes with automatic water filling for humidity test
For better visibility, a door light is provided for viewing window
Single phase preventor will be provided for 3-phase instruments
For compressors, a high pressure and low pressure safety cut off is provided
Fully solid-state relay (SSR) control for heaters.
Deviation alarms for both high and low temperatures
Power supply:

Single-phase 230Volt / Three phase 440 Volt, 50 Hz.
Optional:

Tower light with red, orange and green indicators for checking status of the machine
Enhanced protection of components from high temperatures during testing
Multi Programmable, cyclic Euro therm PID controller with ramp and soak
For component surface testing IR lamp facility is provided
Computer Interface (RS232 / 485).
Full Stainless steel (Inner & Outer).
Client's can avail the test chambers as per their requirements in different chamber sizes